Saxony-Anhalt WEITERBILDUNG BETRIEB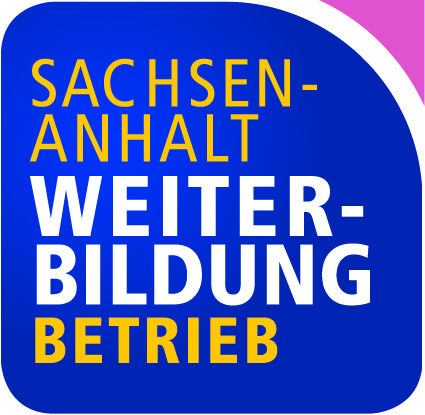 Improve your company's competitiveness by offering your employees advanced training and additional qualifications with the Saxony-Anhalt WEITERBILDUNG BETRIEB program.
Saxony-Anhalt's subsidy program can help you prepare your professional employees and ensure your company's economic success. Even consultation on staff and organizational development, especially for small and medium-sized companies, can qualify for subsidies of up to 80 percent.
This includes costs incurred for advanced training and organizational development. Take advantage of this opportunity and visit your regional adviser for a comprehensive, complimentary advisory session.
For an overview of the subsidy program and useful examples, please see the Saxony-Anhalt WEITERBILDUNG BETRIEBflyer.
For further information on the subsidy program and printable application forms, please visit the Investitionsbank Sachsen-Anhaltwebsite.
unternehmenswert:Mensch is a subsidy program of the Federal Ministry of Labor and Social Services (BMAS) which assists companies in developing sustainable staffing models.
unternehmenswert:Mensch is aimed at small businesses which employ fewer than ten employees. Its primary goal is to develop forward-looking and cooperation-oriented staffing strategies. With the help of professional consultation, lasting changes can be made to company cultures.
For companies with ten or more employees, the Saxony-Anhalt WEITERBILDUNG BETRIEB program supports the development and execution of similar staffing strategies and measures.
Visit your regional advisory office to learn more about available subsidies and their corresponding prerequisites. Detailed information can be found on the unternehmenswert:Mensch subsidy program website.

For information and assistance related to completing an application, please contact one of the following partners:
Bildungswerk der Wirtschaft Sachsen-Anhalt e. V.
Diana Kegel
Seepark 7
39116 Magdeburg
Tel.: +49 (0)391-74469673
Email: diana.kegel@bwsa.de
Institut für zukunftsorientierte Arbeitsgestaltung gGmbH
Ralph Angerstein
Steinfeldstr.3
39173 Barleben
Tel.: +49 (0) 178 3563569
Email: R.Angerstein@izag-gmbh.eu
Bildungs-, Technologie- und Handelsgesellschaft GmbH Eisleben
Knut Ludwig
Seminarstr. 5-6
06295 Lutherstadt Eisleben
Tel.: 03475 92600
E-Mail: knut.ludwig@bth-eisleben.de